Description
Pull along to hear the ABC song—learn the alphabet and letter sounds.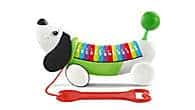 Colorful stripes on AlphaPup's sweater double as buttons that trigger letter sounds and names to help teach children phonics and early vocabulary.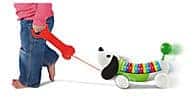 Pull AlphaPup's leash or press the music note button to sing along to three learning songs, and press the bone button to learn fun doggie phrases.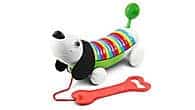 Playful pup makes a sweet pal with velvet-soft floppy ears that are fun to pet.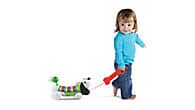 This pup loves to show off his strut! With his nose held high, AlphaPup trots along with paw-shaped wheels that create a cute swagger while on the go.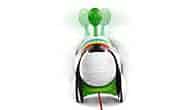 AlphaPup can't hide his excitement for learning with a tail that wags.
Payment & Security
Your payment information is processed securely. We do not store credit card details nor have access to your credit card information.