Description
Tumble & Learn Colour Mixer
A learning light show!
Drop a colourful ball into the mixer to change the colour of the truck. Add another ball and mix the balls together to learn how to create new colours.
Add two balls to the mixer and press the lever to learn how to make new colour combinations.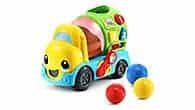 Drop the balls in the mixer to see it light up and teach colours.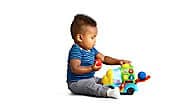 Young construction workers can explore music, numbers, shapes and colours.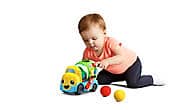 Enjoy five colourful learning songs and more than 15 sound effects.
Numbers, Colours, Shapes, Music & Rhythm
"The Tumble & Learn Colour Mixer™ offers fun, guided pretend play that builds early colour and counting skills. With each drop of a colour ball, children explore colour names and colour mixing. As children push the truck along, they exercise their developing motor and hand-eye coordination skills." – Clement Chau, PhD, LeapFrog Learning Expert
Payment & Security
Your payment information is processed securely. We do not store credit card details nor have access to your credit card information.