Description
Pigeon Mag Mag Straw Cup is used as intermediate stage to prepare the babies for progression to straw cup.
8+ months
Leak Proof, Spill Proof, BPA Free
MagMag Training Cup System is designed to facilitate and enhance the development of baby's drinking skills by allowing a smooth transition from nipple to straw with its interchangeable drinking tops.
Sterilization Method: Boiling, Steam, Microwave, Chemical
Material:
Upper straw / gasket – Silicone rubber
Lower Straw – Polyethylene
*Please note that the straw tube (lower straw) can only be sterilized by chemical sterilization.
Lid / inner adaptor / outer adaptor / cup – Polypropylene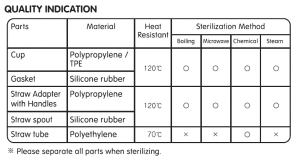 Payment & Security
Your payment information is processed securely. We do not store credit card details nor have access to your credit card information.